October 5, 2007
NEW RECORDINGS & NEW REVIEWS
Well, Rzewski is finally in the can. So to speak.
During the last week in September, I was in New York recording my first solo album: a survey of Rzewski's piano music including De Profundis, Mayn Yingele, The Turtle and the Crane, and Snippets. The recording went very, very well, and, together with my producer/engineer Adam Abeshouse, we put together what I think will be an exciting recording.
The sessions were not without adventure, however. For those who know me well, it comes as no surprise to hear that I have a rather unfortunate history of accidentally damaging pianos and causing their technicians much grief. It's a curse that has haunted me since youth: popped strings, broken hammers, misaligned dampers, even snapped-off black keys, all seem to follow me wherever I go. Now, don't get me wrong: I never intend this to happen. In fact, at least 50% of my broken strings have come during soft, melodic passages; I have popped them in Chopin Nocturnes as much as Ives "piano-drumming." (It actually reminds me of a time when I was quite little and I lost a baby-tooth in a bowl of chicken noodle soup. But I digress.)
I had only been recording for about twenty minutes when the first string snapped. We were recording The Turtle and the Crane, and in the piece's final pages, <pop> went treble string. This of course slows the recording process considerably, as the technician has to come up, fix the string, re-tune the piano, etc. Sadly, two other strings were to snap during the sessions as well. (Supposedly, the piano hadn't had a broken string in six years. Like I said, it's a curse!)
Broken strings were not my only worry, though, as I also snapped off the backcheck of D4. (The backcheck is the the part of the action that catches the hammer-tail.) This was a new one for both me and my technician: neither of us had ever heard of such a thing happening. Well, this slowed the day even more, as the backcheck had to be re-glued, a process which took a couple hours to complete.
Fortunately, after such an eventful first day, the following two went quite smoothly in comparison and were an absolute joy. I specifically want to thank Andy, Adam, Ed, and Becky for making this experience go so well.
Now we just need $8000 so we can produce and release this album!
OTHER RECORDING NEWS
A couple years ago, I recorded John Luther Adam's For Lou Harrison with the Callithumpian Consort. When I returned from my NY recording, I was pleased to learn that this disc has finally been released by New World Records. For Lou Harrison is a beautiful 60+ minute work for two pianos and small orchestra. I urge you to check it out. You can order it here. Now, I will receive a percentage of all purchases made on amazon.com through my website. All proceeds will go towards my upcoming Rzewski recording. Click here to read a review of the Adams disc.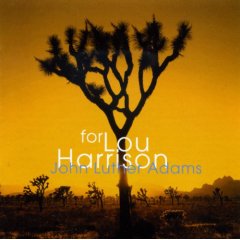 OTHER REVIEWS
Everything seems to happen all at once. I just received a copy of the newest edition of the International Tuba Euphonium Journal, and discovered that my work for solo tuba, Doodles, had been reviewed. It's a rather favorable review, and you can read it here.